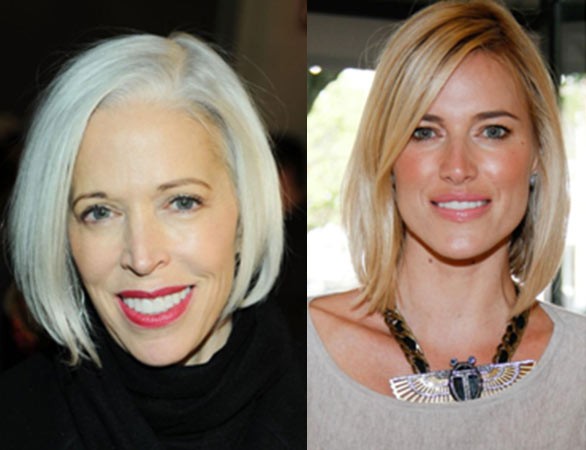 BOB HAIRCUTS – LONG AND SHORT STYLES FOR WOMEN
August 6, 2016

Long or short, straight or asymmetrical, the bob is always on trend because of its versatility and ease of daily styling. They also work well on women of all ages and all face shapes, you just have to find the right bob length for you.

Tips to Consider Before Getting a Bob:
Take into account your personality. If you consider yourself classic, clean and sophisticated, a bob may be for you. You may also benefit from an A-line style bob is you are youthful, edgy and confident.
Consider your lifestyle. Bobs usually require some care with blow drying and an occasional flat iron to achieve a sleek look. You will also need to maintain your bob cut every 6 weeks to keep it neat.
Oval Faces
Oval-shaped faces can be on the long side. The angles achieved with a chin length or shorter bob can show off a strong jaw. If you add some layers, it can add movement and soften your look.
If your jawline isn't as taut as it used to be, consider getting a bob that hits at least an inch below the chin since anything that hits right at the jaw will emphasize any sagging.
Round Faces
Typically, round-shaped faces aren't well-suited to short bobs. They can make the face look even rounder and give a 'helmet' look. A better option for a round face is the long bob with long, side-swept bangs. The side-swept bangs will help to soften features and the bob length will elongate your neck and make your face more slimming.
A-line means the back is slightly shorter than the front, with an angle that can be seen from the side. The A-line is also called "graduated bobs" or "inverted bob hairstyles" and work nicely because they give hair movement, according to Cutler in Glamour magazine.
Short Bob
The short bob is just below the chin line and above. It can be a classic bob or an A-line which means the back is slightly shorter than the front, with an angle that can be seen from the side. It's also known as "graduated bobs" or "inverted bobs." A-line bobs help to give your hair movement.
Long Bob
The long bob remains one of the most popular cuts today. It tends to be a bit longer than the classic or short bob (at least 1-2 inches below the chin), and works on all face shapes and hair textures. There's many ways to cut a long bob varying from a simple blunt cut, to a few layers or stacked layers in the back for extra life and movement. There are endless styling options with a long bob as well.
No matter your current hairstyle, at Anna's Salon Elite, we can help you determine if a bob haircut is right for you. Let us help you be confident in your style! If you'd like a consultation to discuss what might be the best cut for you, call Anna's Salon Elite today for an appointment at (724) 375-8511 or visit us at the salon: 2616 Broadhead Rd Aliquippa, PA 15001
Tags: Bob Hairstyles, Bog Haircuts, Long Haircuts, Long Hairstyles, Short Haircuts, Short Hairstyles